DVD's and Video's
Around Cape Horn

In 1929 the last great days of commercial sail were passing. During that year Captain Irving Johnson sailed aboard the massive bark PEAKING. In this program he narrates the passage in the style that has made him a favourite on the lecture circuit around the world. The most spectacular scenes are filmed during a wild storm as the ship rounds the feared Cape Horn.
This Video is 37 minutes long and filmed in black and white
Available as PAL (UK) £15.00 (Order No 157/1) plus P&P

Square Riggers of the 1930's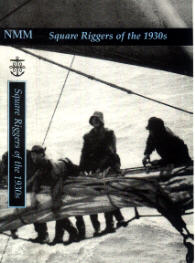 This recording is now in very short supply as the
National Maritime Museum is no longer producing them
This tape contains three programmes showing unique
footage of ships of the famous Erikson Line, taken at sea before
the 2nd World War. They are narrated by the late Alan Villiers,
Master Mariner and author, and Karl Kahre, former director of
the Alands Sailing Museum.
51 minutes

SV Viking
Shot by Harold Wigram in 1938, some of it on early colour stock,
it depicts a voyage from Australia to Falmouth via Cape Horn in
one of the last Great Grain Races.

The Cape Horn Road
Film made by Alan Villers of his own voyages in the SV Parma and
SV Grace Harwar which shows the tough conditions around the Cape.

SS Passat
Film made by Gurth Kimber aboard the famous Barque on a fair
weather passage from Hull to Marieham.

All three are superb films but NO Shanty's !!
Available as PAL (UK) £15.00 (Order No 126/1)
Available as NTSC (USA) £15.00 (Order No 126/2)
plus P&P
If you have arrived directly at this page and wish to view all our products please click here