Stan Hugill
Sailing Days
with Stormalong John
Now Re-released as a CD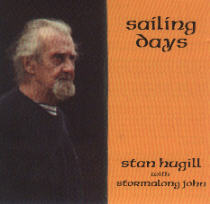 A-rollin Down the River
Way Down in Dixie
Whaling Johnny
Roundthe Bay of Mexico
Shenandoah
Radcliffe Highway
We're All Bound to Go
The Fireship
The Indian Lass
The Leaky Ship
Bosun's Alphabet
Sacramento
Available as Tape CD £12.00 ( Order No 60/4)
plus P&P


Available as Tape £7.00 ( Order No 60/1)
plus P&P

CHANTS des MARINS ANGLAIS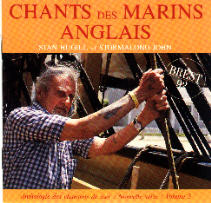 Stan Hugill & Stormalong John
Blow The Man Down
The Balaena
South Australia
Santiana
Lowlands
John Kanaka
Serafina
Admiral Benbow
Rolling Down To Old Maui
Let the Bulgine Run
Good Bye Fare ye Well
The Girls of Dublin Town
Sam's Gone Away
The Drunken Salior
Strike the Bell
Roll the Old Chariot
Hieland Laddie
Bulley in the Alley
The Black Ball Line
Randy Dandy O
Paddy Lay Back
Rio Grande

(Booklet in French)
Available as CD £13.00 ( Order No 123/1)
plus P&P

Aboard the Cutty Sark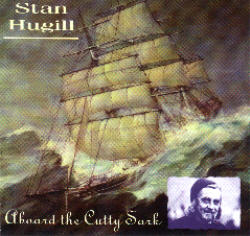 Introduction by Jim Mageean / Life before the mast.
Blow The Man Down
Hoisting the sails / Calling on Jim and Johnny / The origin of 'Town Ho!'
Boston Town Ho!
New York Girls
Davy Jones and Fiddlers Green / John Mansfield / Pubs along the Highway
Ratcliffe Highway
Origins of the Forebiter / Smelling a ship and bagging a bunk
Lowlands
Keeping your position as Shanty man / Getting the 'stop knot' on / The Capstan
Shenandoah
Santy Anna
Leaving Customs / Carving Food / Liverpool Pantiles / Carving tobacco
Leave Her, Johnny Leave Her

Available as CD £12.00 ( Order No 115/1)
plus P&P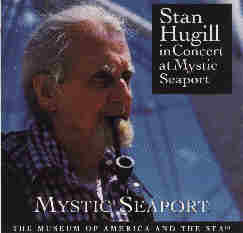 Stan Hugill in Concert at Mystic Seaport
Vire au Guindeau … A Sailor Stood … 80 Years Old and Somewhat … Rum Yarns … Santiano … South Australia … Blow The Man Down … Black Ball Line … Shanghaiing …. Larry Marr … Lowlands … John Kanaka … The Arabella … Leave Her Johnny.

Available as CD £12.00 (Order No 60/2)
plus P&P

A Saltey Fore Topman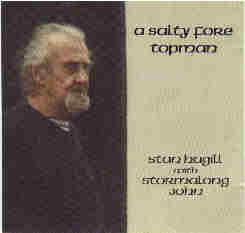 Stan Hugill with Stormalong John
Where am I to Go ... The Girls of Dublin Town ...Running Down to Cuba ... Old Moke Pickin' on the Banjo ... Eight Bells ... Roll Boys Roll ... The Pilots of Tiger Bay .... The Gals of Chile ... Golden Vanitee ... Heave Away Boys, Heave Away ... The Companero ... Jack All Alone ... Pull Down Below ... Aboard The Kengaroo ...Haul Away Boys ... The Anglessey

Available as CD £12.00 ( Order No 60/3)
plus P&P

BOOKS
Stan Hugill
Shanties from the Seven Seas
by Stan Hugill
BACK IN STOCK
Good! News Stan Hugill's Shanties from the Seven Seas
has been reprinted by Mystic and is back in stock.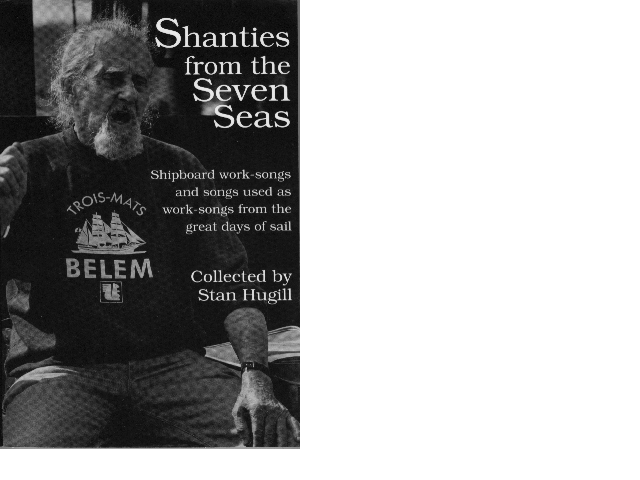 Shipboard work-songs and work-songs from the great days of sail
This book contains not only more than 400 sea shanties - chanteys to Americans - but as much of their history as Stan Hugill could collect in his extraordinary career as sailor, scholar, author, artist and inspiration to new generations of sea-music enthusiasts and performers.
Price £20.00 (Order No 11/8)
plus P&P
The Bosun's Locker
by Stan Hugill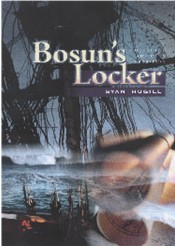 A compilation of the series of articles Stan wrote for SPIN magazine -over seventy songs, lots of interesting facts and explanations. Never before published as a single volume - and sketches not seen for many years!!
Price £15 (Order No 700/1)
plus P&P

If you have arrived directly at this page and wish to view all our products please click here