The Sinking of the Garthpool
In Stan's own words........
(sound file)
The Last Voyage of the Garthpool as related in Sea Breezes Magazine 1930

Jutepolis
A four-masted steel barque built in 1891 by W.B. Thompson & Co. Dundee, as yard no. 107. Dimensions 94,48×13,71×7,64 m [310'0"×45'0"×25'1"] and tonnage 2842 GRT and 2652 NRT. Rigged with with nothing over double topgallant sails.
1891 December 3

Launched at the shipyard of W.B. Thompson & Co., Dundee, for C. Barrie, Dundee. Assigned the British Official No. 99207.

1899

Sold to Jutepolis Sailing Ship Co. Ltd (F.E. Bliss manager), London, together with Lawhill for £ 39.000.

1900

Transferred to Anglo-American Oil Co., London.

1911

Sold to George Windram & Son, Liverpool, for £ 6500.

1917

Sold to Marine Navigation Co. of Canada Ltd. (Sir William Garthwaite manager), London.

1920

Renamed Garthpool.

1922

Registered in Montreal but still flying the British flag.

1927 October 13 — January 13

Sailed from Dublin to Adelaide in 92 days.

1929 November 11

Wrecked at Boavista, Cape Verde Islands, on voyage from Hull to Adelaide in ballast.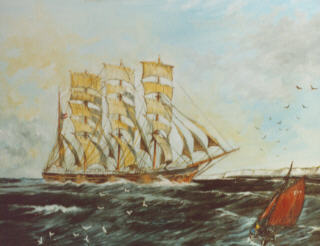 (formerly Juteopolis) Bark (4m). L/B/D: 310 × 45 × 25 (94.5m × 13.7m × 7.6m). Tons: 2,652 net. Hull: steel. Comp.: 28. Built: Messrs. Thompson & Co., Dundee, Scotland; 1891.
A four-masted bark sporting a jubilee rig—that is, setting no sails above the topgallants—Juteopolis was built for the jute trade between Calcutta and Dundee, in which she sailed under Captain W. Linklater for nearly a decade. In 1900 she was bought by the Anglo-American Oil Company and carried case oil in the Pacific. Sold just before World War I to George Windram and Company, Liverpool, she hauled general cargoes. In 1917, she was acquired by Sir William Garthwaite's Marine Navigation Company, though she was not formally renamed until 1921. On her first voyage as Garthpool, Captain Atkinson died at sea en route from Port Lincoln to Falmouth in 1921. With freight rates low, the ship was laid up for two years at the end of that passage. In 1924, her port of registry was changed to Montreal and she sailed again in general trade. Two years later, she changed masters again, sailing under Captain David Thomson in the Australia grain trade between Adelaide and, usually, Hull; she was not a fast ship, and her passages often exceeded 120 days. On October 23, 1929, she was outward bound from Hull in ballast. Among the crew was Stan Hugill, who would later earn international renown as a chanteyman and historian of the last days of sail. On November 11, 1929, Garthpool ran aground and was lost at Boavista Island, one of the Cape Verde Islands; all hands survived. She is often credited with having been the last British deep-water sailing ship—flying as she did the Canadian merchant ensign.